The Shadow Theatre of Reality: Imaginations of Hyperspace in the work of IOANN

Paul Oomen
category:
Essay
date:
December 2017
author:
Paul Oomen
,
IOANN
Published by:
Spatial Sound Institute, MONOM
Paul Oomen reflects on the work 'Imagining the Hyperspace' by Russian sound artist IOANN. The work consists of nine projections of particular geometric structures in sound - from elementary concepts of geometry such as a point, line and triangle, to highly complex concepts such as the tesseract and 24-cell octaplex.
In this article, the formal ideas behind the composition of each structure are presented, next to a broader reflection on the fundamental questions the work brings up and the experience it aims to evoke within its listeners.
This article was originally published accompanying live presentations by the artist of 'Imagining the Hyperspace' as part of
CTM: Transcend the Turmoil
IMAGINING THE HYPERSPACE ︎

POINT

geometry:
A point is a primitive notion upon which geometry is built, it cannot be defined in terms of previously defined objects. Geometric points do not have any length, area, volume or any other dimensional attributes. A point is meant to capture the notion of a unique location in Euclidean space. Euclid originally defined the point as "that which has no part".
dimensions: 0
harmonic order:
sonic character:
"Pulsation expanding to the size of the room and beyond, the point of reference for the beginning and end of the universe." (Sapozhkov)
---
LINE

geometry:
A concept that conceives of an infinitely-extendable one-dimensional figure with no curvature. A line represent a straight object with negligible width and depth. It may be described as a geodesic (the shortest path between two points). The concept of a line is closely tied to the way different type of geometries are described. Euclid described a line as a "breadthless length" which "lies equally with respect to the points on itself". From lines he constructed all which is now called Euclidean geometry.
dimensions: 1
harmonic order:
sonic character:
"Two points that cannot meet and push each other to move in opposite directions, forming a line in between them." (Sapozhkov)
---
TRIANGLE
geometry:
A regular polygon with 3 edges and 3 vertices.
dimensions: 2
harmonic order:
sonic character:
"Perfect harmony, pacification and slow flowing river, providing a feeling of levitation." (Sapozhkov)
---
TETRAHEDRON

geometry:
A Platonic solid (a regular, convex polyhedron) composed of 4 triangular faces, 6 straight edges, and 4 vertices.
dimensions: 3
harmonic order:
sonic character:
"Harmonic evolution of the triangle, but sets in motion a rapid ascension to the realm of non-physical experience." (Sapozhkov)
---
CUBE

Geometry:
A Platonic solid bounded by 6 square faces, 12 edges with 3 meeting at each of 8 vertices.
dimensions: 3
harmonic order:
sonic character:
"Polyrhythmic sharp pulsing fabric actuated by straight-angled mutual relations." (Sapozhkov)
---
5-CELL

geometry:
A 4-simplex, the simplest possible convex regular 4-polytope (4-dimensional analogue of a Platonic Solid) bounded by 5 tetrahedral cells, with 10 faces, 10 edges and 5 vertices. It is analogous to the tetrahedron in three dimensions and the triangle in two dimensions.
dimensions: 4
harmonic order:
sonic character:
"From up close it has acquaintance with tetrahedron, but at distance its features curve with spacetime." (Sapozhkov)
---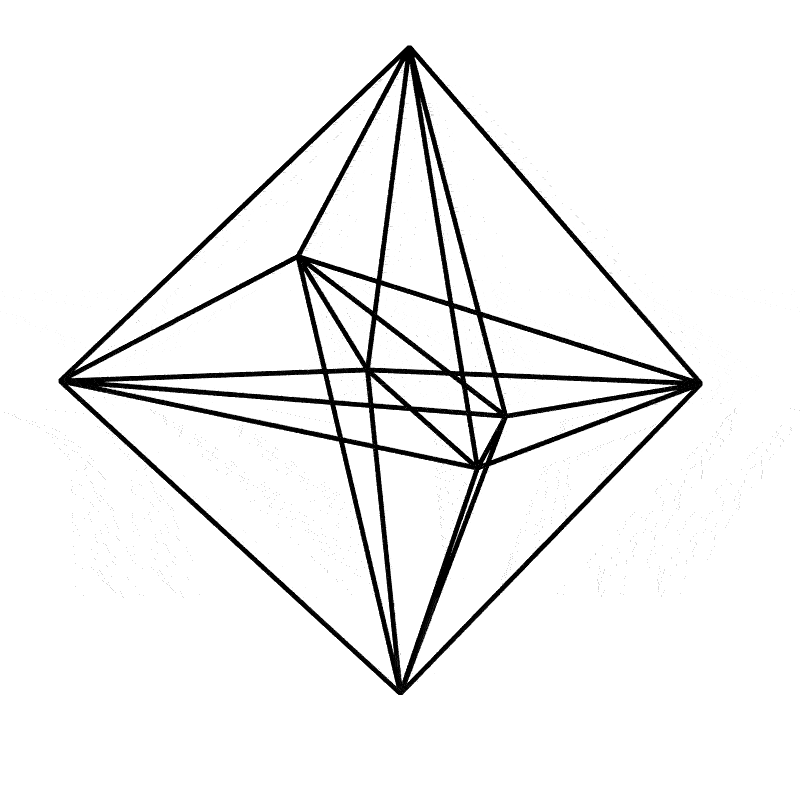 16-CELL

geometry:
Part of an infinite family of polytopes, called cross-polytopes or orthoplexes. It is bounded by 16 cells, all of which are regular tetrahedra. It has 32 triangular faces, 24 edges, and 8 vertices. The 24 edges bound 6 squares lying in the 6 coordinate planes.
dimensions: 4
harmonic order:
sonic character:
"Harmony that opens the breathing, induces elastic movements of space, produces incredible patterns when curved." (Sapozhkov)
---
TESSERACT
geometry:
Its hypersurface consists of eight cubical cells. It is the 4-dimensional hypercube, part of the dimensional family of hypercubes or 'measure polytopes'. The tesseract is analogous to the cube in three dimensions as the cube is to the square in two dimensions. It has 24 square faces, 32 edges and 16 vertices.
dimensions: 4
harmonic order:
sonic character:
"Leads to the edge where ordinary human perception terminates, a pulsing and bewitching cube that opens intuitive consciousness for perceiving hyperspace." (Sapozhkov)
---
24-CELL
geometry:
The boundary of the 24-cell is composed of 24 octahedral cells with six meeting at each vertex, and three at each edge. Together they have 96 triangular faces, 96 edges, and 24 vertices. The vertex figure is a cube. The 24-cell is the unique convex self-dual regular Euclidean polytope which is neither a polygon nor a simplex. Due to this singular property, it does not have an analogue in lower dimensions.
dimensions: 4
harmonic order:
sonic character:
"Complex constantly varying figure that exceeds the barriers of human perception. Here only intuition works. It is to be examined slowly and in separate parts, connected together by imagination." (Sapozhkov)
---
THE SHADOW THEATRE OF REALITY
In his Allegory of the Cave , Plato invokes Socrates to describe a group of people who have lived chained to the wall of a cave all of their lives facing a blank wall. The prisoners watch shadows projected on the wall from objects passing in front of a fire behind them. They believe the shadows on the wall to be real because they cannot turn around and learn to understand that what they perceive is actually an illusion. Like the fire casting light on the walls of the cave, the human condition is forever bound to the impressions that are received through the senses. Even if these would be an absurd misrepresentation of reality, we cannot somehow break free from the bonds of our human condition - we cannot free ourselves from the phenomenal state just as the prisoners could not free themselves from their chains. If, however, we were to escape our bondage, we would find a world that we could not understand. In other words, we would encounter another 'realm', a place incomprehensible because, theoretically, it is the source of a higher reality than the one we have always known .
How do we know what we perceive is the real world, rather than a shadow theatre, the projection of something more complex that surpasses our ordinary renditions of perception? With his work Imagining the Hyperspace, Russian sound artist Ivan Sapozhkov aims to challenge our understanding of reality by confronting us with sound projections of an order of complexity that cannot manifest in the physical world - the 4th dimension, or hyperspace. Alike Socrates, who explains the philosopher is like a prisoner who is freed from the cave and comes to understand that the shadows on the wall are not reality at all, Sapozhkov invites us to free ourselves from the bonds of how we see the real world in its ordinary state and see through its limiting illusion, and suggests we can enter such understanding through listening.
Imagining the Hyperspace is a series of nine projections of particular geometric structures in sound - from the most elementary concepts of geometry such as a point, line and triangle, to highly complex ones such as the tesseract and 24-cell octaplex. The projections are realized by interpreting the geometries as a network of harmonic relationships in space, of which the partials appear at the vertices of the geometry. The listener is enabled to walk around and through the geometrically structured harmonic field, while the structure itself is being rotated, tilted and folded in performance by the artist. Listening to these geometries manifesting physically in three-dimensional space becomes a process that appears at least four-dimensional once we discover that we, the listeners, are each a defined point that is inherently and actively part of the experienceable shape. Thus, our perception of shape changes each time we move through space, tilt our heads or rotate our bodies and we realize that the subjectivity of our experience is rooted in a reality of greater complexity than the projected object itself. The geometrical object, the product of a mathematical model and therefore rational and predictable in nature, appears as a shadow in the light of subjective consciousness, which is the realm of the irrational and the incomprehensible. "The Cartesian space of three dimensions is, as all mathematical spatial concepts, a model which has evolved from the range of experiential reality as Descartes knew it. But in reverse we tend to think, wrongly, that the mathematical model covers reality. The space we experience subjectively through our observation is more bizarre. It is a space that comes close to dreams." (James Turrell).
As we are faced with the incomprehensible, Sapozhkov resorts to two strategies of moderation in attempt to illuminate our understanding of this higher realm: 1) artistic interpretation and 2) catharsis.
The process of artistic interpretation allows the subjective mind of the artist to wander, fighting with and finding a path within the objective order of the geometric structures. In this process the listeners are like the prisoners that have been freed from their bonds. As we can now move freely in the cave, the artist provides us with a torch flame that lights up different cavities and pockets of the space around us. But the flame doesn't illuminate the space in its totality, and only allows us to move step-by-step. Each of our steps leads us to new unknown territory and the direction we might take is highly unpredictable. Though if we were to find our way out of cave and the sunlight would illuminate in full the space around us, it would blind our eyes and we would likely run back into the depths of the cave.
With each performance, the artist aspires to achieve this moment of blinding illumination, the way out of the cave where the bright light awaits us. With this, he attempts to invoke an experience of catharsis in the listeners. Catharsis, a term originating from ancient medicine and ritual, means 'cleansing', 'purification' or 'purgation'. To this end, the artist drives towards an experience of the sound structures in their full and overwhelming intensity, or he reveals the erratic and counter-intuitive behaviour of what was presumed to be a structure governed by perfect harmony, therewith 'shocking' his audience. By revealing to us the deeper nature of geometry as something potentially monstrous, uncontrollable or frightening, "...to rouse the soul to a frenzy, as a result [these emotions that arise violently] settle down as if they have attained healing […] and a sort of catharsis and relief, accompanied by pleasure, comes about for everyone." (Aristoteles)
Imagining the Hyperspace invites us to explore space beyond our ordinary perception, to discover what else might be inherent to human nature and how we are able to work with consciousness to alter our perception of reality. In this process, we may find new purpose in actively listening to space to attain a deeper awareness of 'where and how we are'.
—
Text by Paul Oomen
Images by Claire Glanois
IOANN
is the current artist project of Ivan Sapozhkov, born in Tyumen, Western-Siberia, Russia. Graduated from the department of Philology at the Tyumen State University in 2006, his musical career spans from his early childhood classical music training up to Sapozhkov founding his first rock- and metal groups in the early 2000s. For several years he toured as vocalist and guitarist with Russian mystic-metal band «Molot vediM» and released the worldwide acclaimed studio album 'Asylum' in 2004. Since 2006, He began to experiment with forms of electronic sound and virtual instruments, working in the field of experimental sound, film and theatre as a composer and musician. In 2014, Sapozhkov founded his experimental sound studio in Moscow. In 2016 he became artist-in-residence at the Spatial Sound Institute, Budapest, Hungary, where he continues his research into the perception and spatial projection of multi-dimensional sound structures using 4DSOUND technology.